Americomp Radiology Systems
Americomp X-Ray Systems can be either Analog or Digital utilizing CR or DR packages
WhatsNew:
Friendly, No Pressure Representatives are Ready to Help!
2012

Michigan X-Ray prides itself on education first. We feel that if we provide you with the best knowledge and information that the sale will follow. By listening and consulting, we fit the imaging products that meet your current and future imaging demands.
CurrentNews:
February 9, 2012

Multi-Specialty clinics are rising with the formation and combining of physicians and groups. Helping battle the high cost and lowering reimbursements of healthcare, these consortiums are effectively creating referral base and purchasing power. Our experienced representatives with Multi-Specialty groups can engineer enterprise wide solutions that can encompass radiology, oncology, and cardiolgy.
Events:
Holding an Event?
February 9, 2012

Looking for a guest speaker or help in putting together an event. Michigan X-Ray often volunteers time for industry events and share open information on an academic level for people looking to gain knowledge in the medical imaging arena.
Americomp Radiology Systems
Michigan X-Ray carries a variety of X-Ray Equipment solutions. We can custom fit a radiographic suite to fit your needs. From Hospital grade to Private Practice, our imaging specialists can design a radiographic suite that fits your needs and budget.
Americomp AM1
The Float-Top Elevator table features a high quality lift mechanism designed for effortless patient transfer and positioning. Combined with a rotational tubestand and high frequency x-ray generator, this package is great for clinics and orthopedic offices. Perfect for Digital Radiography installations utilizing DR or CR.
Key Features:
Elevating Table
Orthopedic tubestand on generous track lengths
Tube carriage provides transverse motion +/- 5" off-center of the table midpoint
Cross table and extended tube travel
---
Americomp AM2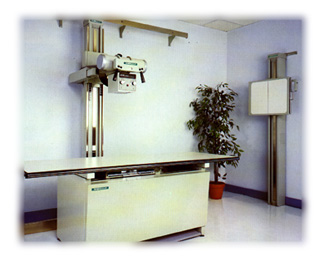 The economical choice for the private practice. Four-Way Float Top Table and tubestand Matched with a Standard or High Frequency generator to meet your imaging demands and budget. Perfect for Digital Radiography installations utilizing DR or CR.
Key Features:
Four-way, Float Top Pedestal Table
Rotational or non-rotational tubestand depending on imaging demands
Wall stand with mechanical or electric locks
Fit with a standard or high frequency x-ray generator
---
Americomp Spectra 30HF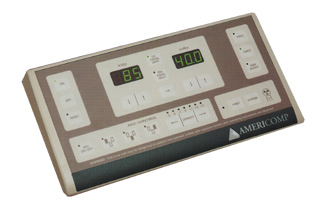 The Spectra 30HF High Frequency X-Ray Generator is an Economical and High Performance x-ray generator. With thousands of systems installed worldwide the Spectra 30HF is the standard for replacement x-ray generators.
Key Features:
Output is 300mA (optional 500mA) and 125kVp
Easy to use two point technique or optional Anotomical Programmable Region console
Automatic line compensation
Five-Year limited parts warranty
---
Americomp Spectra 325e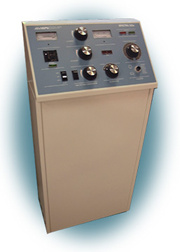 A popular workhorse in the medical industry. This clean and reliable system accomplishes its objective of creating x-rays efficiently and controlling their production.
Key Features:
Output is 300mA and125kVp
Digital mAs reduces user reading error and improves setting accuracy and repeatability
Digital Timer
Five-Year limited parts warranty
---
Contact Michigan X-Ray (800) 437-1379,
for a custom fit X-Ray System that best fits your needs & budget.
---