Fuji XL-2 CR System
Fuji XL-2, the leader in Computed Radiography!
WhatsNew:
Friendly, No Pressure Representatives are Ready to Help!
2012

Michigan X-Ray prides itself on education first. We feel that if we provide you with the best knowledge and information that the sale will follow. By listening and consulting, we fit the imaging products that meet your current and future imaging demands.
CurrentNews:
February 9, 2012

Multi-Specialty clinics are rising with the formation and combining of physicians and groups. Helping battle the high cost and lowering reimbursements of healthcare, these consortiums are effectively creating referral base and purchasing power. Our experienced representatives with Multi-Specialty groups can engineer enterprise wide solutions that can encompass radiology, oncology, and cardiolgy.
Events:
Holding an Event?
February 9, 2012

Looking for a guest speaker or help in putting together an event. Michigan X-Ray often volunteers time for industry events and share open information on an academic level for people looking to gain knowledge in the medical imaging arena.
Fuji FCR XL-2 (CR) Computed Radiography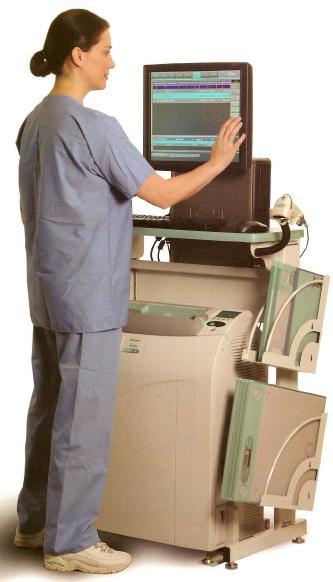 With a compact footprint of less than 2.5 square feet and standing only 32" high, the FCR XL-2 can fit in any exam room, in remote offices, even under counters — virtually anyplace where space is at a premium.
Key Features:
Process up to 94 images per hour.
High Resolution, making it ideal for orthopedic and extremity applications where seeing fine detail is critical.
10 or 12 bit grayscale for optimal display at PACS
Process of exam is quick and simple
Includes often optional items such as DICOM Print and Modality Worklist
Click on Banner Below for Brochure (pdf):

---
Contact Michigan X-Ray (800) 437-1379,
for a Computed Radiography System that best fits your needs & budget.
---